One of my first  bands, performing at Fisher Heights Public School in Ottawa. We also called ourselves 'The Civilians' and 'Population 1'. From left Jeff Reid on bass, Scott Moodie on vocals, Darryn Sparling on drums and myself on guitar. I had just graduated from Fisher Heights the year before and we performed for the following year's graduates.
Merivale High School band ESP performing at the Nepean Student Showcase. This show took place in Ottawa at the Nepean Sports Plex. From left is Arnold Weeks on bass, Greg "Buzz" Smithers on guitar and vocals and myself on guitar. Not visible is Adam Powell on drums.
InCity Dreams performing at the Rainbow Bistro in Ottawa during the summer of 1990. Arnold Weeks on bass, Gord Troup on drums, Horace Roxborough on vocals, Jamie Fraser on keyboards and myself on guitar.  This band performed a mix of Blues, Rock and Funk tunes.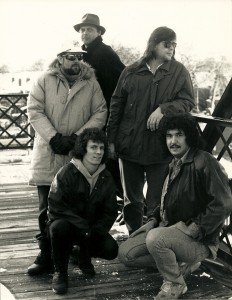 The Shady Blues Band was formed in Toronto and this original formation (91-95)  included Al Begg vocals, Peter Fischer sax, George Bauman drums, Jeff Reid bass and myself on guitar.  A rockin' blues band that performed shows throughout Ontario.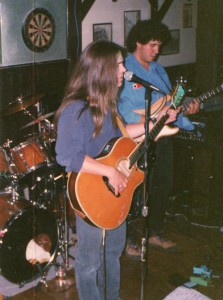 Jam Factory was formed in Ottawa but travelled out West to Calgary in 1996. Starting as an acoustic duo and then acquiring drums and bass to form a full band. Art Ladouceur, vocals and guitar and Andrew on guitar and vocals.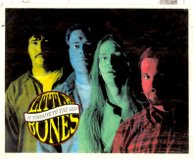 Little Bones was a Tragically Hip cover band formed in 1997. An offshoot of Jam Factory, the band was only around for about 2 years. David Yakobi on bass, Art Ladouceur on vocals/guitar, Sean on drums and Andrew on guitar/vocals.